About Troop 44
Troop 44 was founded in August, 2004 to serve a growing Scout population by providing a second Boy Scout Troop in Mendon, Massachusetts.
By the end of its first year, Troop 44 grew to more than 20 boys from Mendon and its neighboring towns of Millville, Upton, and Uxbridge.
Troop 44 emphasizes learning traditional Scout skills, camping and hiking, community service, and creating a consistent opportunity for all boys to advance in rank. The idea is for boys to go FAR, which stands for "Fun with Advancement and Recognition."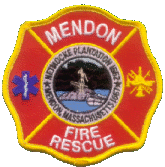 The Mendon Firefighters Association is Troop 44ís chartering organization (sponsor). The Troop number is the Mendon Fire Departmentís designation within Worcester County--"Station 44".
To maintain its operations, the Troop holds several fundraisers throughout the year, including Can and Bottle recycling drives in the Mendon Town Hall parking lot and a Christmas tree pick-up/recycle drive.
If you would like to join Troop 44 or just find out more about the troop, send e-mail to the Scoutmaster.